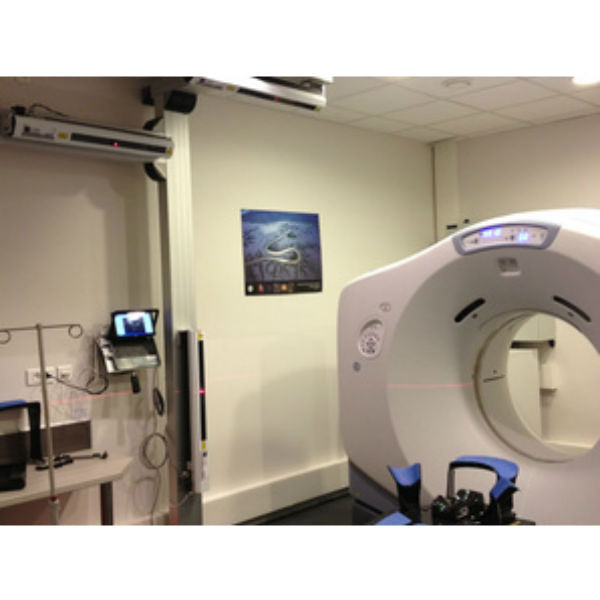 CYRPA
HIT 6 // Virtual simulation – 6 mobile lasers
---
*** ALWAYS FOLLOW THE DIRECTIONS FOR USE
THIS PRODUCT IS NOT AVAILABLE FOR PURCHASE BY THE GENERAL PUBLIC***
Adapted to each radiation treatment room, HIT (High Impact Technology) laser positioning systems distinguish themselves by allowing to treat patients with greater accuracy (up to +/- 0.1mm). Plus, it makes the adjustment of the equipment automatically and faster. The HIT system optimizes the time spent treating patients and improves the usability for the professionals operating the equipment.
CYRPA's HIT precise lasers systems allow a faster and more accurate virtual simulation in radiotherapy. The HIT 6 is compatible with all CT scanners.
The HIT 6 system consists of six mobile lasers that generate :
- A sagittal vertical line
- Two vertical transversal lines
- Two horizontal lines
- One more vertical line at the height of the tibia
Thanks to the fact that all lasers are mobile no couch movement is needed on the transversal plane.
With a touch of a button the cross or the diode laser line may be red and/or green,  with every time a precision of positioning of +/-0,1mm, offering a more precise and faster use.  The double diode can be adapted to each patient's skin tone and has the advantage of a built-in redundancy. The change from one color to the other is done remotely and instantly.
The adjustments of the laser beams are accessible remotely via a Tablet PC and a wireless network and with a PC in the control room with CYRPASoft. This session of adjustments lasts approximately 10 minutes.
The system is coupled to a phantom for the automatic adjustment and calibration of the laser beams, which is called the "SmartPhantom CT".
And what about double-checked accuracy?
The CYRPA technology for mobile lasers includes a built-in microprocessor and encoder that gives real-time feedback to the software on the requested position. Additional to this, an external linear encoder verifies the position of the optical head, and double-checks its position to ensure the best accuracy in patient-positioning.
Specifications
Red Laser

Type : Diode
Wavelength : 635nm
Maximum output power <1mW
Laser Class : Class II
Fineness of the line : < 1mm
Line Length : > 3m

Green Laser

Type : DPSS
Wavelength : 532nm
Maximum output power <1mW
Laser Class : Class II
Fineness of the line : < 1mm
Line Length : > 3m

Mobile Laser Box

Overall Dimensions (Height x Width x Depth) : 920 x 105 x 90 mm
Weight : 5 Kg
Power Supply : Internal 110/230 VAC. Consumption of less than 1A
Temperature: 15-30 ° C room temperature
Type of control: Motorised. Remote control via a wireless network interface and a Tablet PC.
Accuracy of the isocenter adjustments: + / – 0.1 mm
---
Share this Product
---
More from this collection
Gamma Gurus supplies quality products from these highly respected companies.