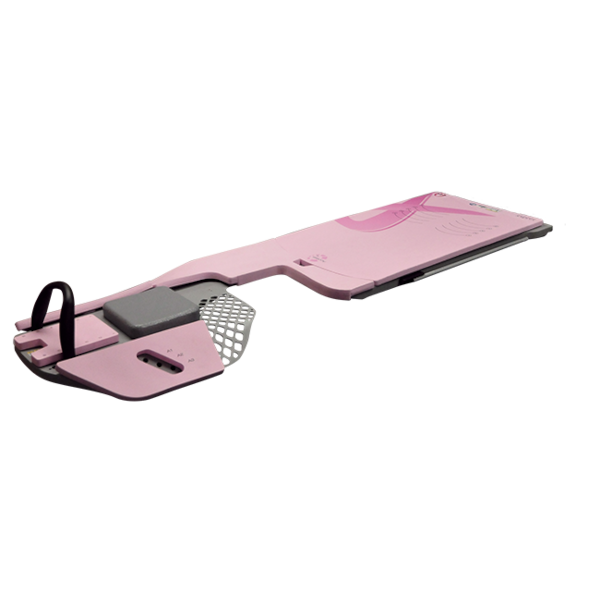 QFix
kVue™ Access 360™ G2 Prone Breast Board Insert
---
MRimage and Treat™
Description
The kVue™ Access 360™ G2 Breast Board is designed for both left and right breast cancer treatment including whole breast, partial breast, and accelerated breast treatments. The sleek, cantilever design provides both oblique and non-coplanar access. Since the beam path is primarily through the breast with minimal couch top interference, artifacts and scattering may be minimized.
Attributes
Expanded Supraclavicular Access
The thinner, wider grid window provides full access to treat the supraclavicular nodes. The supraclavicular access allows patient treatment to be accomplished in one setup.
CT Simulation
• 13 cm CT risers index to existing overlays with 2-pin locating bars
• 2.5 cm CT shims attach to the CT risers to raise the insert
• Rigid, lightweight CT risers are coated for easy cleaning
Alignment
• Virtual Indexing provides confirmation of patient alignment
• Ipsilateral scale provides an additional point of reference for laser alignment
• Knee alignment marks aid in patient positioning for daily setup
Supraclavicular Access
• Thin, wide-grid window provides full access for treatment of the supraclavicular nodes. (Exclusively available on the Access 360 G2)
• Treatment of breast and supraclavicular nodes can be accomplished in one setup
Open Access Treatment
• Breast cutout offers ability to treat with non-coplanar and oblique angles
Additional Attributes
• Inverted wing design flattens the back to position of breast tissue away from chest wall and torso
• Ergonomic Dual Hand Grip relieves stress on patient's wrist
• Hand Grip Posts provide a hand hold for patients with limited arm mobility
• Prone headrest design allows free breathing while lateral light slots promote an open feeling for claustrophobic or anxious patients
• Contour headrest allows the patient's head to be rotated to either side
kVue™ Access 360™ Package Includes:
2 Couch Top Inserts with Foam Cushions (for left and right breast)
2 Headrests (1 prone and 1 contour)
3 Hand Grips (1 dual and 2 Hand Grip Posts)
1 Set of CT Risers with stackable CT Riser Shims
1 kVue Storage Cart
Prone VacQfix™ Indexer -- RT-4544KV-IND
Storage Cart -- RT-4551CART
Access™ Prone VacQfix™ Vacuum Cushion with contralateral breast support --
RT-4517-PB3
Access™ Prone VacQfix™ Vacuum Cushion without contralateral breast support --
RT-4517-PB4
kVue™ Access 360™ G2
RT-4544KV-10

---
Share this Product
---
More from this collection
Gamma Gurus supplies quality products from these highly respected companies.