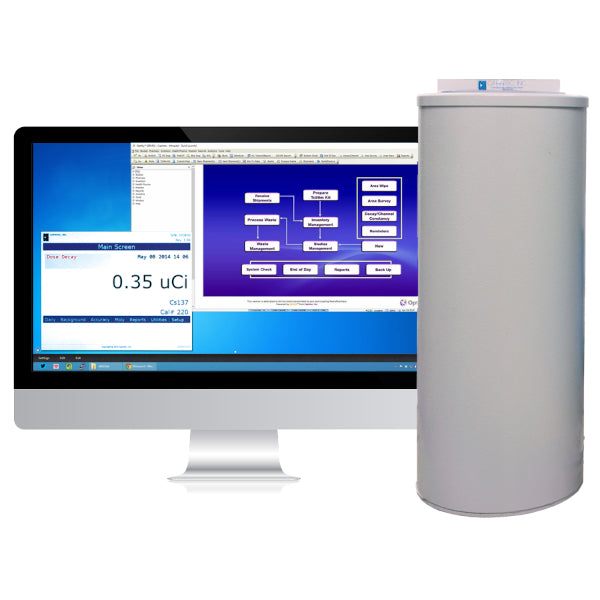 Capintec
Capintec™ CRC-OPT-4 Smart Dose Calibrator
---
The CRC®-OPT-4 Smart Dose Calibrator system is a fully integrated network ready dose calibrator and management program which supports all nuclear medicine and radiopharmacy functions. Both the CRC®-PC Smart Dose Calibrator and Optility™ Management Software can be displayed on the same large All-In-One touch screen PC. The result is the fastest and most user friendly approach available for processing orders, tracking inventory, measuring and dispensing doses, patient record-keeping, and regulatory compliance.
Optility™ is available in three versions: NMM for Nuclear Medicine imaging sites, CPM for radiopharmacies, and NPM for sites that perform both operations. The CRC®-PC Smart Dose Calibrator is available in two models: HL for unit dose hot lab and RPh with extended high range for cyclotron or generator sites. The Opt-4-Smart Dose Calibrator system can be configured to meet your individual facility's needs, and easily upgraded if processes change.
The CRC®-OPT-4 Smart Dose Calibrator provides users with the most economical approach to both fast, accurate measurements and comprehensive information management for all your Nuclear Medicine and radiopharmacy needs.
Features- Optility™ Nuclear Medicine Management Software
HL-7 Interface
DICOM Interface
Bar Coded Inventory
On Line Ordering Functions
Intuitive User Friendly Screen Flow
Health Physics Services
Highly Customizable Labels and Reports
HIPAA Compliant with Multiple Security Levels
Flexible Customer Support Options
Features: CRC®-PC Smart Dose Calibrator
Network Ready with Remote Connectivity
Display can be Viewed Remotely within Network
Direct Interface to PC- no Readout Required
User Adjustable Threshold for Fastest Response
Smallest Calibrator Footprint
Ethernet Communications
Software Upgrade via Ethernet Interface
Power over Ethernet or USB port
Database stores QC, Moly and User Logs
Specifications- Optility™ Nuclear Medicine Management Software
Network Functions: Optional 20" All-In-One Touch Screen PC; 64 bit, Windows 10 or above; Client Server Application, Local or Remote; HL 7 Import and Export Functions; DICOM Import and Export Functions; On Line Ordering via Web Supports Alternate Management Systems; Export data to Excel or .xlm Formats; Data Import from Most Management Systems; Multiple Security Levels Assure Full
Confidentiality of all Data; On Line Software Updates and Training
Nuclear Medicine Functions: Tracks Doses from Orders to Disposition; Maintains Patient Dose and Exam Records; Flexible Patient Scheduling Options; Full Health Physics Compliance; User Definable Trigger and Notification Levels; Statistics for Patient Data and Procedures; Daily Task Log with Action Reminder
Pharmacy Functions: Tracks and Manages Receiving, Inventory, Components, Kits, and Waste Functions; Full Traceability from Generator to Unit Dose; Maintains Batch or Lot Records; Checks License Limits against Orders;  Business Module includes Invoicing and Financial Reporting; Analytics To Monitor Productivity and Identify Customer Trends
Specifications- CRC®-PC Smart Chamber
Ionization Chamber: Type: Thin wall, deep well, sealed and pressurized; Fill Gas: Ultra-Pure Argon
Electrometer: Accuracy: Better than ± 2%; Linearity: Within ± 2%; Response Time: Within 2 sec., 4 to 16 sec. for very low activity samples
Repeatability of Measurement: Repeatability: Within ± 1% within 24 hours, during which time the Calibrator is on all the time.
Measurement Range: Type: Auto Ranging; HL (Hot Lab) 6 Ci Tc-99m, 2 Ci F-18; RPh (Pharmacy) 72 Ci Tc-99m, 20 Ci F-18
Programs: Daily: Auto Zero, Auto Background Adjust, Data Check, Accuracy and Constancy, Voltage Test; Automated Linearity Testing; Nuclide Library; Moly Assay; Utilities including Decay Calculator Ci or Bq Option
Chamber Power: USB: 5Vdc, 0.5A; Power over Ethernet (PoE): 48Vdc, 0.35A
Optional Components
| | |
| --- | --- |
| 7120-00543 | Optility™ Labels: |
| 2000-0007 | Dymo Label Writer Printer 450 |
| 5010-0028 | Symbol Bar Code Reader LS 2208 |
| 5030-0055 | 20″ All-In-One Touchscreen Computer |
---
Share this Product
---
More from this collection
Gamma Gurus supplies quality products from these highly respected companies.