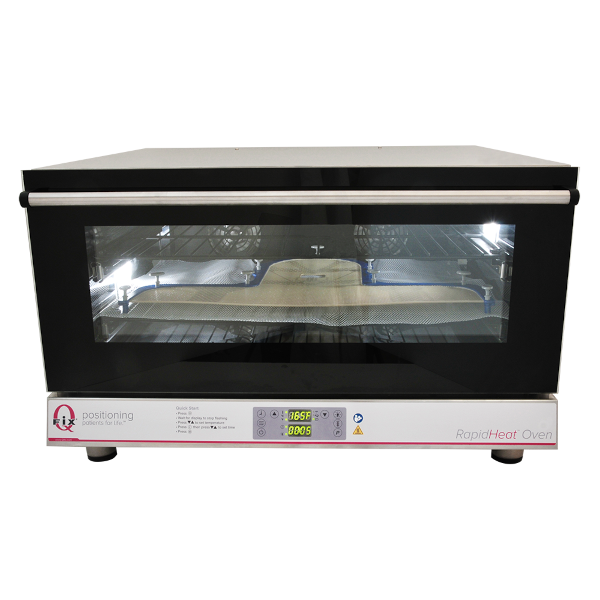 ---
Description
RapidHeat Hot Air Oven for Aquaplast RT, Fibreplast and Bolus

Quickly reaches working temperatures and provides an easy to use method to heat Aquaplast RT™ and Fibreplast® thermoplastic as well as Aquaplast RT Custom Bolus. Its unique two fan design and optimal spacing between racks allows the hot air to soften the thermoplastic quickly and evenly.
Features


RapidHeat has a large 7.5 cm high digital display that features a Quick Start Guide to easily navigate operating the oven. The digital temperature controller can be used in a programmable or manual timer mode, increasing work flow efficiencies. The arrows adjust Time/Temperature and the Start/Stop function to easily preheat the oven while prepping the patient.

The digital display includes a timer that counts down from the designated time and alerts the user when ready. The time can be set accordingly for different thermoplastics and Aquaplast RT
Custom Bolus.


Additional Features:


• Two fan design for even air circulation
• Minimizes cross contamination
• Non-stick ball-bearing sliding racks for easy cleaning and removal of masks
• Easy to read 7.5 cm digital display

Outer dimensions: 81.28w x 76.2d x 45.72h cm
Inner dimensions: 68.58w x 53.34d x25.4h cm
Options
RapidHeat™ Oven - 110 volts -- RT-2075-110
RapidHeat™ Oven - 220 volts -- RT-2075-220
Storage Options
Water Bath Cart
The Thermoplastic Prep Cart is ideal for use with a water bath or RapidHeat Oven. The cart has four wheels for easy maneuverability of the cart and heating appliance. The cart features two open shelves to store Fibreplast and Aquaplast RT and/or accessories. The stainless steel cart is easy to clean.
Water Bath 120V
The Water Bath accommodates all Qfix and CIVCO RT thermoplastic sizes, with the exception of the Head & Shoulder Integrated Shim™ S-frame masks. Dimensions (W x D x H)* Overall: 79.37 cm x 60.96 cm x 33.02 cm (31.25" x 24" x 13") Internal: 63.5 cm x 48.3 cm x 12.7 cm (25" x 19" x 5") *Dimensions do not include shut off valve mounted on side.
Accessories
This Silicone Pellet Bowl for Aquaplast RT Pellets can accommodate the heating of Aquaplast RT Pellets in our RapidHeat Oven. It is a collapsible silicone bowl that can heat about 2oz of pellets in approx. 10 mins. 
---
Share this Product
---
More from this collection
Gamma Gurus supplies quality products from these highly respected companies.