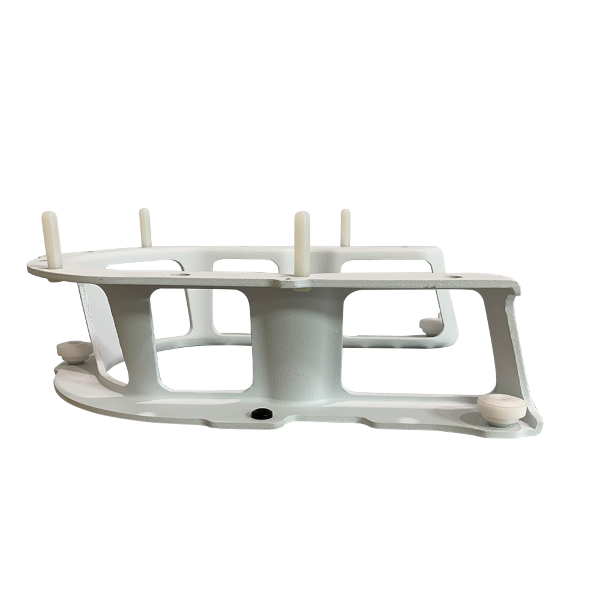 QFix
MR SRS Adapter for Portrait & S-Type Devices
---
Description
The Qfix MR SRS Adapter allows for the treatment of multiple lesions with a single isocenter when combined with Encompass™ SRS Fibreplast® Masks. This complete SRS solution enables sub-millimetric positioning on the MR Portrait™ and other S-type devices.
MR has become a significant part of radiotherapy treatment planning because it provides superior soft-tissue contrast while avoiding ionizing radiation. Using the Encompass SRS Fibreplast Mask System to immobilize the patient during MR imaging,  motion-related distortions are reduced and the patient is able to be simulated in the same position as that of treatment. Our MR SRS solution  offers the benefits of incorporating MR imaging with the convenience of a more streamlined workflow. Contact us to learn more.
Options:
SRS Adapter
MR SRS Adapter
Includes SRS Headrests (E0, E2, E4)
Encompass™ SRS Fibreplast® anterior mask
To be used with SRS Cushion Support. Mask includes MOLDCARE U Head cushion, 20 cm x 35 cm.
SRS Headrests & cushion support
SRS headrests are available in different heights for positioning patients in a comfortable, neutral head and neck position. They support the patient's head while forming the Encompass™ SRS Fibreplast® Mask system for simulation.
The SRS Cushion Support is compatible with MOLDCARE® and an anterior Encompass™ SRS Fibreplast® Mask.
---
Share this Product
---
More from this collection
Gamma Gurus supplies quality products from these highly respected companies.