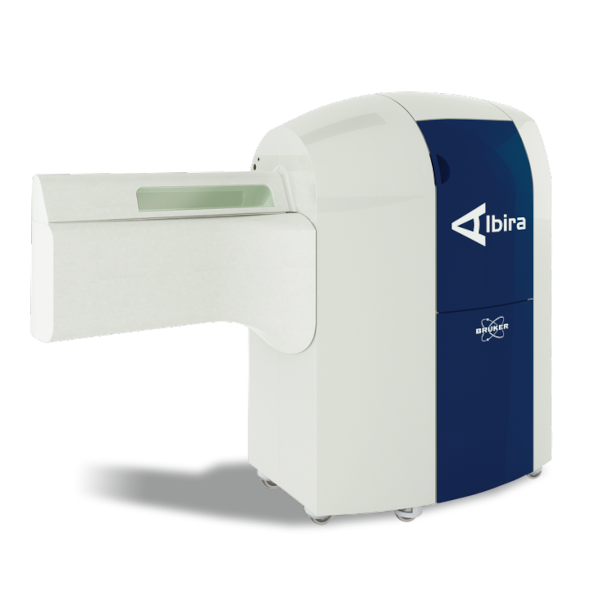 Bruker
Albira SI PET/SPECT/CT
---
Seamless integration of PET, SPECT and CT with fully automated animal handling system which enables automatic co-registration of images
Highlights
Field Upgradable
Start with one imaging modality and upgrade the system capabilities as you need adding imaging modalities or increasing the size of the PET detector coverage
90 × 220cm
Have all the power of a trimodal PET/SPECT/CT system that will take a small space in your lab with the smallest footprint for any integrated system on the market
Like you, thousands of our customers around the world rely on advanced imaging techniques to study dynamic biological process within living animals. To better understand the progression and treatment of diseases, you can use Albira's PET, SPECT and CT imaging for quantitative 3D tomographic imaging of radiotracers, bone, and soft tissue.
Features
Animal Care Monitoring And Control
Anesthesia: Fully integrated. Compatible with most common commercial gas systems
Animal Handling System: Reliable, easy to use rat and mouse beds; Fully compatible with BRUKER MR
Physiological Signals: ECG, Respiration, Temperature, And Blood Pressure
Temperature Control System: Electrically heated mats for rat And mouse
Video Monitoring: Realtime camera
Gating Acquisition: Cardiac and Respiratory For PET and SPECT; Dual Gating for PET
Software and Workstation
Fully Integrated Albira Suite: ACQUIRER: Image Acquisition, RECONSTRUCTOR: Image Reconstruction, MANAGER: Study and Protocol Management, SUPERVISOR: Quality Control
Image Analysis Software: PMOD (PBAS, PFUS, PKIN MODULES INCLUDED)
Workstation: Dedicated Server; All Functionalities on a single system (Acquisition, Storage, Reconstruction and Image Processing)
Reconstruction: GPU Based, CPU Based SPECT
Imaging Modalities: PET, SPECT, CT
Coincidence based PET featuring Full Field of View Accuracy which means constant resolution across the entire FOV for consistent quantification
Adaptative SPECT FOV from to 25 to 120 mm (in one single bed position) and 4 different collimator types
Single compact footprint 90 × 220 cm
Fully Shielded against X-rays
---
Share this Product
---
More from this collection
Gamma Gurus supplies quality products from these highly respected companies.