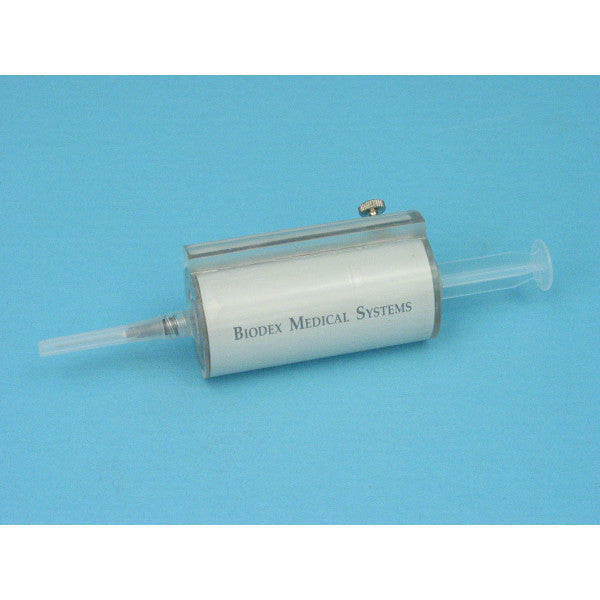 Biodex
Beta Syringe Shield
---
This Beta Syringe Shield reduces hand exposure from syringes containing Strontium 89, P-32, and other beta-emitting radiopharmaceuticals. The barrel of the syringe shield is constructed of clear plastic with a .062" thick embedded lead lining, which attenuates Beta emission and errant bremsstrahlung. The lead lining is interrupted at the viewing window for clear visibility when drawing and administering the dose. A thumbscrew holds syringes firmly in place.
For pharmacies preparing a dose of Zevalin, both a 1 cc and 10 cc syringe shield are offered for the two stages of preparation. Use the 1 cc syringe shield to draw Zevalin Y-90 directly from the pharmacy's supplied vial shield, count in a dose calibrator and inject to the reaction vial. Use the 10 cc syringe shield to draw the prepared dose from the reaction vial for patient administration.
The Manual Dose Injector is an ideal companion, providing both additional shielding and distance.
Lead and plastic shielding, designed for Beta
Clear plastic window
Fits most disposable syringes
Suitable for Ra-223 Xofigo®
Ideal for Zevalin Y-90


Easily sanitized with alcohol wipes

Dimensions: 1.625" dia x 3.25" l ( 4.1 x 8.3 cm)
Shielding:
- 007-956: .422" plastic, .062" lead, .125" plastic
  (1.07 x .16 x .32 cm) with .86" (2.2 cm) plastic window
- 007-957: .25" plastic, .062" lead, .125" plastic
  (.64 x .16 x .32 cm) with .70" (1.8 cm) plastic window
Weight:
- 007-956: 10.4 oz (297 g)
- 007-957: 9.6 oz (274 g)
---
Share this Product
---
More from this collection
Gamma Gurus supplies quality products from these highly respected companies.